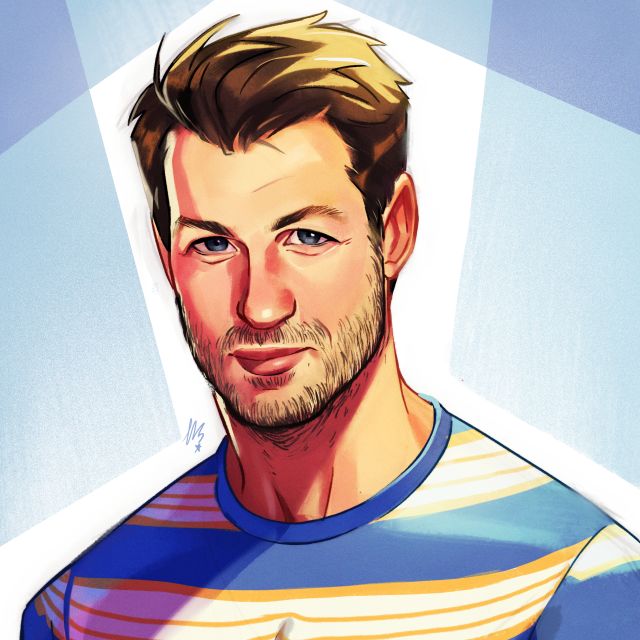 Sold Out
Joe Brumm: Bluey
---
The Parlour, State Library of Queensland
Families / Free event
Duration: 60 minutes
Bluey creator and screenwriter Joe Brumm joins Megan Daley to discuss the show's joy, the process of its creation, and the special place it holds in the hearts of Brisbane families.


Generously supported by Griffith University.

Joe Brumm is the creator, writer and series director of the animated series Bluey, produced by Ludo Studio for ABCTV and BBC Studios. In 2011 Joe founded Studio Joho which now has an expanding body of quality animation work behind it. Joe is Company Director and Joho's clients include College Humor, Viacom, ABC's Good Game, New Form Digital GOMA, Ludo Studio/Cartoon Network, Gallery of Victoria and Halfbrick. In partnership with Half Brick his original web-series, Dan The Man, has been turned into a successful mobile game with over 10 million downloads. In 2015 Joe won the Austin Film Festival with his short The Meek. His numerous other short films have all been awarded internationally. Joe Brumm worked as a lead animator for 10 years in London on numerous children's series, including the Bafta winning Charlie and Lola. He also worked in Kenyan Tinga-Tinga Tales for BBC/Disney.

Megan Daley is a Teacher Librarian in Brisbane and has been awarded the Queensland Teacher Librarian of the Year, as well as the national Dromkeen Librarian's Award. Megan is the author of the bestselling book 'Raising Readers' (UQP) and has a picture book and anthology to be published in 2023. A former national vice-president of the Children's Book Council of Australia, Megan is also a regular literary judge, workshop presenter, the creator of the popular website Children's Books Daily and co-creator of the Your Kid's Next Read podcast.

Google Tag Paste this code as high in the of the page as possible: