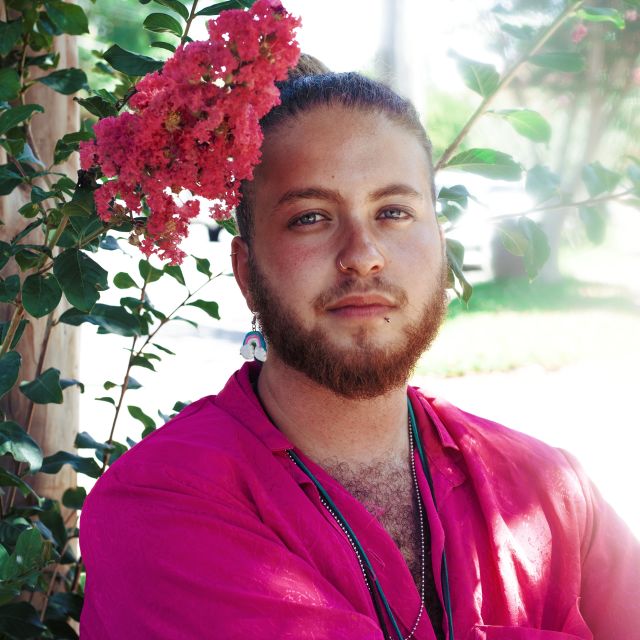 Cancelled
Duration: 60 minutes
Join Nevo Zisin as they discuss The Pronoun Lowdown, and the increasing prominence of trans and gender diverse voices in all their fluid and imperfect perfection.

Nevo Zisin in conversation with Katherine Lyall-Watson

Nevo Zisin (they/them) is a queer, non-binary, Jewish writer, performer, activist and public speaker based in Naarm/ Melbourne. They run workshops in schools and professional development trainings in workplaces around transgender identities. Author of award-winning Finding Nevo (2017), a memoir on gender transition and The Pronoun Lowdown (2021) a useful guidebook on all things related to pronouns.
Their work has appeared in The Saturday Paper, NGV Magazine, Archer Magazine, Junkee, Kindred: A Queer Australian Young Adult Anthology, SBS, Hack Live and The Morning Show amongst others.
They are a mentor for The Pinnacle Foundation, one of Out for Australia's 30 Under 30 for 2019, an ambassador for both Wear It Purple and the Victorian Pride Centre as well as a member of the Gender Euphoria cast - Australia's largest all trans & gender diverse show on a main stage.

Katherine (she/her) is a playwright and the Co-Artistic Director of Belloo Creative. She has a doctorate in creative writing from the University of Queensland, was the chair of Playlab for five years and regularly mentors and supports emerging writers. Katherine is proud to be an LGBTIQA+ ally and the parent of two sons, one of whom happens to be Trans.

Google Tag Paste this code as high in the of the page as possible: