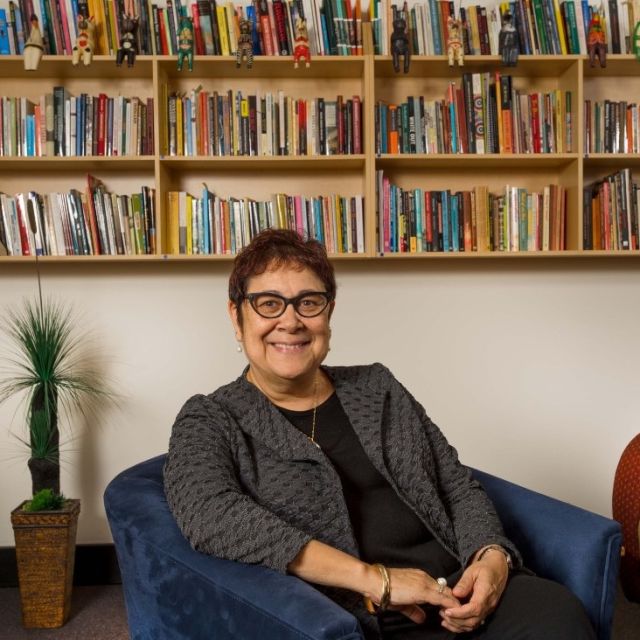 Sold Out
Duration: 60 minutes
Distinguished Professor Aileen Moreton-Robinson wrote the seminal Goenpul warrior woman's book Talkin' up to the White Woman over twenty years ago. Since that time, critical race studies in Australia have been built on top of the scholarship that Professor Moreton-Robinson pioneered. Join Professor Moreton-Robinson and Professor Bronwyn Fredericks as they revisit Talkin' up to the White Woman, subsequent theoretical work and what decolonising the Western episteme means.

Aileen Moreton-Robinson in conversation with Bronwyn Fredricks

Dr Aileen Moreton-Robinson is a Goenpul woman of the Quandamooka people (Moreton Bay). She is Australia's first Indigenous Distinguished Professor and is Professor of Indigenous Research at the University of Queensland. She was formerly the Director of the Australian Research Council's National Indigenous Research and Knowledges Network (NIRAKN), a national program that has capacity built Indigenous postgraduate students and early career researchers. Distinguished Professor Moreton-Robinson served as President of the National Aboriginal and Torres Strait Islander Higher Education Consortium (NATSIHEC) in 2019. She is the founding President of the Australian Critical Race and Whiteness Studies Association.
Professor Moreton-Robinson's publications have international standing and global reach. The twentieth anniversary edition of her first monograph Talkin Up to the White Woman: Indigenous women and Feminism was released in July 2020 selling 2000 copies in a matter of days. Her recent monograph The White Possessive: Property, Power and Indigenous Sovereignty (2015) won the Native American and Indigenous Studies Association's (NAISA) subsequent book prize in 2016. Her edited collection entitled Critical Indigenous Studies: First World Locations and Engagement was published by Minnesota Press in 2016. She is co-editor of the Handbook of Critical Indigenous Studies, published by Routledge in December 2020. Professor Moreton-Robinson served on several editorial boards including American Quarterly, the Journal of the Native American and Indigenous Studies, Australian Feminist Studies, Cultural Studies Review and Critical Ethnic Studies. She is the founding editor of the International eJournal of Critical Indigenous Studies. In 2020, Professor Moreton-Robinson was elected as a member of the American Academy of Arts and Sciences and a Fellow of the Australian Academy of Humanities.
Prior to her life in the academy, Professor Moreton-Robinson worked in public administration and served as a board member on Indigenous community organisations such as the Indigenous rights advocacy organisation: the Foundation for Aboriginal and Torres Strait Islander Research Action LTD (FAIRA) of which she is a current board member.

Bronwyn Fredericks is a Professor and the Pro Vice-Chancellor (Indigenous Engagement) at the University of Queensland (UQ, Australia). In 2016, Bronwyn was appointed as the Presiding Commissioner with the Queensland Productivity Commission (QPC) to lead the Inquiry into service delivery in Queensland's remote and discrete Indigenous communities. She additionally worked on the Inquiry into manufacturing, the Inquiry into Imprisonment and Recidivism in Queensland (2019) and the Queensland Recycling Review (2019).

Bronwyn has worked for both state and federal levels of government and has a long history of direct hands-on involvement in Aboriginal and Torres Strait Islander community-based organisations spanning over 30 years. For example, she was Chairperson of the Bidgerdii Community Health Service for some 9 years, a Director of Anglicare Central Queensland, assisted in the establishment of community organisations, and served on numerous community committees.

She holds numerous qualifications including a Dip. T(Sec), B.Educ, M.Educ, M.EducStudies, PhD along with two VET qualifications (Cert IV TAE and a Cert IV in Community Culture). Bronwyn is noted for her community-based research and translating research outcomes along with her strong practice-based commitment to social justice and improving Indigenous health, education and life outcomes.

Google Tag Paste this code as high in the of the page as possible: