Writers festivals are definitely one of my favourite things on the bookworm's calendar, and I look forward to the #LoveYA events every year as part of the Brisbane Writer's Festival. I'm here to tell you why I love attending them – and why you should attend as well!
1. Meeting your favourite authors
This is definitely my favourite part of every YA festival – meeting my favourite #LoveOzYA and international authors and attending their panels is always incredibly inspiring. I love meeting them and getting my books signed (and even telling them how much I love their books!)
2. Making new friends (and meeting online ones)
We're not alone when it comes to our love of reading – there are real people out there who love reading as much as we do! Attending YA festivals is the best way to meet other bookworms as well and connect with the local bookish community – including those familiar faces who you've only seen online.
3. Discovering new reads
Whether it's from authors on a panel, to the amazing books on sale, or even just book recommendations from your newly found bookish friends, discovering new reads is definitely an upside to YA festivals. Make sure to bring a notepad or get your texting ready to note down all the new titles that you'll discover!
4. A whole day dedicated to your favourite thing – reading of course!
YA festivals are centred on celebrating the love of literature and reading for teens and young adults alike. You'll be squealing over YA books, starstruck at the author signings and just generally listening to great bookish conversations over the course of the day. What could be better?
5. Giveaways, free swag and bookish merch
We know this isn't the sole reason for going, but freebies and giveaways are always a plus when you attend YA festivals. Whether it's winning a bookish quiz, or a lucky door giveaway, there's always free swag up for grabs at YA festivals!
Follow Jeann on: Blog | Twitter | Youtube | Instagram | Goodreads | Facebook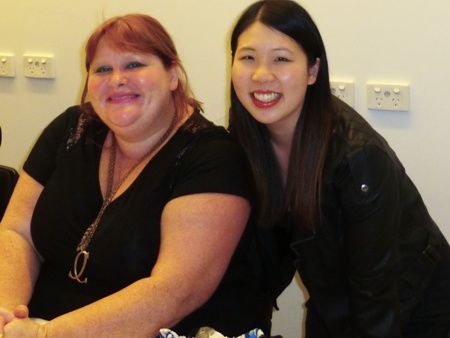 At Love YA 2015 with Cassandra Clare.