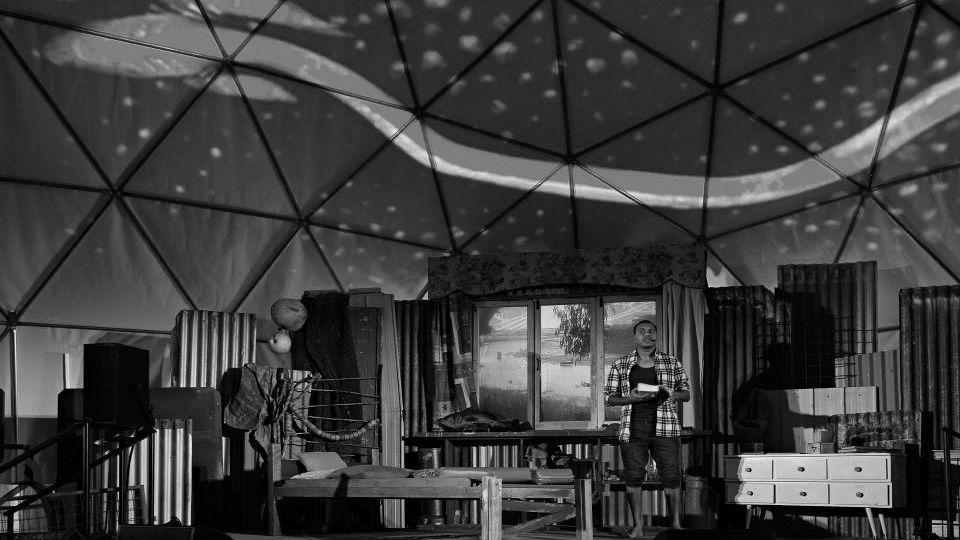 Angel's Palace is an immersive literary experience created by UPLIT and first presented at Brisbane Writers Festival in 2017.
Premiering as part of BWF last year was the extraordinary immersive experience, Angel's Palace inspired by the award winning novel Carpentaria by First Nations' author Alexis Wright. In the spirit of the spiegeltent, Angel's Palace is a travelling artwork and pop-up venue in one, touring with a suite of multi-disciplinary performances that invoke the voices of First Nations' storytelling and literature, ignite imaginations and resonate with communities everywhere. The Palace was designed by Gordon Hookey and is a multi-media venue that will take your breath away. With performances and installations brought to life by creative collaborators, including director Alethea Beetson and Alexis Wright, Angel's Palace is a uniquely Australian story that at the same time connects with First Nations' narratives around the globe. For more information about how you can bring Angel's Palace to your community please phone: (07) 3255-0254 or email info@bwf.org.au
The Angel's Palace experience consists of a 7.5m high dome structure that features a print of an original artwork created by artist Gordon Hookey and features digital animated projections created by Ken Weston, a soundscape created by Guy Webster and a set developed by Iceworks Design. Angel's Palace is a multi-disciplinary collaboration that represents the voice of Indigenous Australia and celebrates Aboriginal storytelling and literature in a powerful experience for audiences.audiences.
UPLIT is pleased to announce that the Angel's Palace is available for hosted touring complete with a number of ready made programs that can be included in your presentation package. They include performances and installation an interactive space. For more information about how you can bring Angel's Palace to your community please phone: (07) 3255-0254 or email info@bwf.org.au
Request info pack