The 2023 Microfiction Competition, presented in partnership with The University of Queensland, called young writers from Queensland based schools to respond the prompt The Unknown. Entrants were invited to respond to the prompt in 120 words or less, using any written format (verse/prose).
The judging panel featured Will Kostakis, author and Word Play 2023 guest; Dr Richard Newsome, author and lecturer at UQ; and Jenny Stubbs of CBCA and Book Links QLD.
The shortlisted entrants were invited to present a reading of their microfiction story at the awards ceremony held at the Festival (see photo gallery below!). The shortlisted entrants for 2023 are:
Junior (Primary School) Category:
Laycee Eden, Miami State School
Zeke Nicholson, Wilston State School
Shen Khor, MacGregor State School
Clarence Poulsen, Walkervale State School
Phoebe Wright, Kelvin Grove State College
Senior (High School) Category:
Aditi Jha, Matthew Flinders Anglican College
Ella Micallef, homeschooled
Sophie Hattingh, Siena Catholic College
Alexandra Dunn, Kenmore State High School
Isabelle Langestraat, St Rita's College
BWF and UQ thanks all who entered and congratulates those who were shortlisted.
The winners for 2023 are Clarence Poulsen, for the Junior Category, and Alexandra Dunn, for the Senior Category. Congratulations Clarence and Alexandra! (Read on below for their entries...)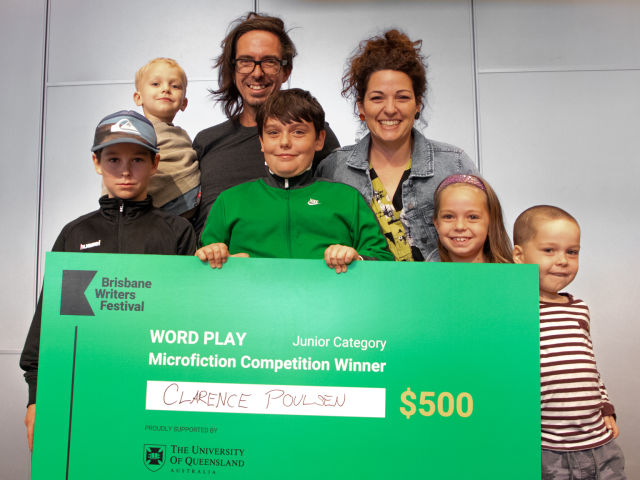 Junior Category winner: Clarence Poulsen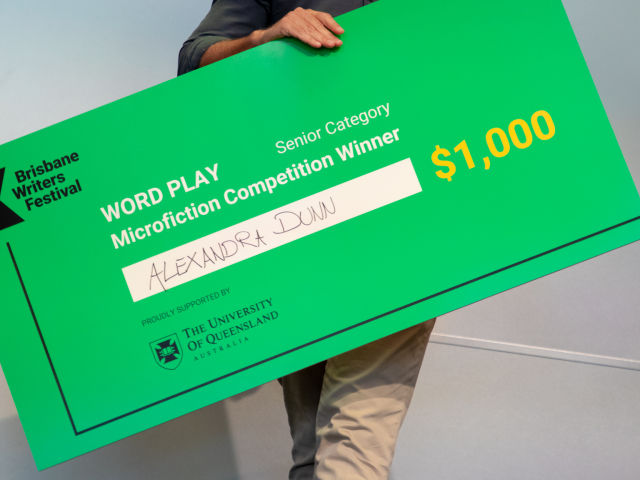 Senior Category winner: Alexandra Dunn
The Unknown by Clarence Poulsen


Trees shiver and
birds cower,
as the stars blink
and darkness towers,
on the path to the Unknown.

Shadows shift and
light flickers
as the figure,
hunched and bent,
moves along the path to the Unknown.

As the lights dim and darkness blooms, cloak flapping, stick tapping,
he stumbles on,
into the Unknown.

A pilgrim entering the Unknown.

The silence eerie and the darkness wild,
the pilgrim shivers and then he cowers.

A pilgrim, lost in the perilous Unknown.

A sudden light in the darkness awakes,
and the pilgrim
begins to hope.

A blossom of hope in the Unknown.

And then the light
reveals
a garden of wonder and hope. A pilgrim settles

in the beauty of the Unknown.




A Constellation in Your Embrace by Alexandra Dunn

You close your eyes and rest your head against me, and I wonder what you're thinking. I would stay with you for the rest of my life. But... I don't know if you feel the same. I don't know if, whenever you see me, you're struck by the light from a thousand fireworks. I don't know if you like the way I make your tea, your coffee, your breakfast. I don't know whether you'd dive through the sky with me; freefalling, just us and the clouds, if only because I wanted an adventure. I'm only standing on the threshold of your universe, glimpsing your glittering stars – your thoughts – through your sweet smiles and whispered words in the dead of night.

Google Tag Paste this code as high in the of the page as possible: