When Alexis Wright's Carpentaria was first published in 2007, it ignited conversation, imagination, and presented an ambitious, beautiful and epic literary achievement.
The novel shares the interconnected stories of several inhabitants of the fictional town of Desperance, situated in the Gulf of Carpentaria. There, the Aboriginal people of the Pricklebush clan are engaged in a number of combative disputes with various enemies in the community, including the white inhabitants of Desperance, the local law enforcement, and government officials. Among these characters are Angel Day, who lives on the outskirts of Desperance.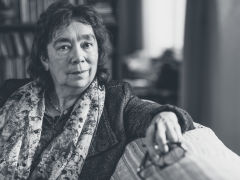 ​"She thought the dump was magnificent, as anyone dirt poor would. The way she talked you would have thought she was a very rich woman, and it was nothing for her to walk back and forth to the dump two dozen times a day to cart back pieces of sheet iron, jerry cans, bits of car bodies, pieces of rope, logs, plastic, discarded curtain and old clothing … until she ended up with an igloo made of rubbish." Alexis Wright, 'Carpentaria'
In celebration of Carpentaria, a collaboration between Alexis' words and artist Gordon Hookey have come together to create Angel's Palace, an immersive artwork, which will debut at the Brisbane Writers Festival this September. The stunning creation will be built on the Maiwar Green, and inside a series of events, including performances and author talks, will take place.
Angel's Palace, in a large dome shape will stand at 7.5m tall and 15 m in diameter. The shape reflects traditional Aboriginal architecture, especially that of traditional 'humpies'. Read more about traditional Architecture here, or join us in a conversation about Aboriginal Architecture on Saturday 9 September.
Using Alexis' words as inspiration, Gordon has created a visual design which will be transferred onto a canvas and encompass the entire outside of the artwork. Initially designed on a small model of Angel's Palace, pictured below, Gordon's work will be reprinted on a massive scale, to cover the 300 square meter canopy.
Entering inside Angel's Palace, audiences will experience an evocative digital landscape, transporting them across time and place to Alexis' mystical world.
Video designer Ken Weston, sound designer Guy Webster, and Lighting Designer Ben Hughes have collaborated with the teams at Iceworks Design and Reverse Garbage in an unforgettable immersive venture, with Brisbane Design Company DWDC Designs, creating a beautiful site design.
Alethea Beetson, Artistic Director of Digi Youth Arts, has been leading her creative team of writers and performers in the rehearsal room for the past few months, to create a two 20-minute performances. One to inspire the imaginations of young minds aged 3-8, and one for older audiences.
Find out more here.
Our Content & Engagement Team, under the leadership of Artistic Director Zoe Pollock, have curated a series of events including performances, conversations, book launches, and panel discussions. Tickets are being snapped up – book yours here.
#Find out more about Angel's Palace
For a true behind-the-scenes experience, find out more about Alexis and Gordon's collaboration in our special BWF session Building Angel's Palace on Sunday 10 September, a special panel conversation between Alexis and Gordon, hosted by Speaking Out presenter Rhianna Patrick. Tickets and information are available here.
The Angel's Palace experience has been made possible through the generous support of the Taylor family.

Image of Angel's Palace by Mick Richards. Image of Alexis Wright by Vincent L Long.