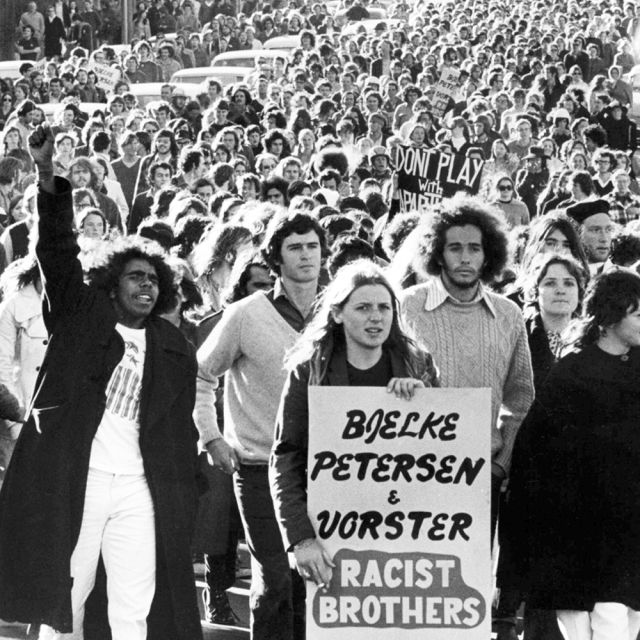 Selling Fast
Duration: 120 minutes
The 1970s: An era of protest, civil disobedience, cultural awakening and free love. The Vietnam Moratorium heralded an intense period calling for revolutionary change, women's rights and a growing Black Rights movement.

In early 1971, the Australian government invited the Springboks, South Africa's all white rugby union team, to tour Australia. This resulted in a massive national campaign to oppose apartheid supported by incisive union action, a vocal, organized student movement, and a new alliance with the Black Rights movement.

Premier Joh Bjelke-Petersen responded by declaring a month-long State of Emergency in Queensland. In Brisbane, protesters gathered outside the Tower Mill hotel where the team was staying, to demand an end of apartheid and an end to the tour. Aboriginal activists played a leading role in challenging white radicals to recognize and fight apartheid in Australia.

Premier Joh bussed in an additional 600 country police. Police were granted immunity for any action taken. The final Rugby match, Australia vs Springboks on 31 July 1971, was moved to the Exhibition Grounds.

The vigil that night at the Tower Mill was not peaceful. The violent assault on protesters, bystanders and film crew was unwarranted, brutal and whitewashed from history.

Fifty years on we reflect on the Brisbane protests, hear stories from the people who were there, and discuss the legacy of how Australian society changed.

Join us for two panels discussing the history and legacy of these highly charged political times. Your ticket price includes both panel sessions, each followed by a Q&A session.

Thank you to Professor Deborah Terry AO, Vice-Chancellor and President of The University of Queensland, who will be introducing our panelists.

Panel 1 - Protest!
Chair: The Honourable Matt Foley
Panel: Anthony Abrahams AM, Dr Valerie Cooms, Dan O'Neill, Dr Anne Richards.

Panel 2: Political Legacy.
Chair: Prof Julianne Schultz AM FAHA
Panel: Robert Atkinson AO APM, The Honourable Roslyn Atkinson AO, Prof Raymond Evans, Samuel Woripa Watson.

Book Signing
Please join us in the foyer after the event where Dr Anne Richards will be signing copies of her book A Book of Doors. Books can be purchased on the day.

Getting to the Venue
Goddard 139, Goddard Building,
Mansfield Place, The University of Queensland, St Lucia Campus
Click here.
You can also view this more detailed map of the campus, the Goddard building is map reference G8. This map also provides information regarding parking stations. There is some accessible parking available in Mansfield Place.

Food & Drink Options
There are a couple of options close to the venue to grab something before or after the event:
Saint Lucy Caffe e Cucina: located a short distance from Goddard 139. Visit their website to view their menu or to make a booking. Located on Blair Drive, St Lucia, click here for walking directions.
The Bagel Boys: located 200 metres away, open until 4pm. Visit their website to view their menu. Click here for walking directions.

COVID Restrictions - announced Thursday 29 July 2021
Masks must be worn at this event. As Queensland Health continues to monitor COVID-19 cases around Australia and within Queensland, they need to keep local mask restrictions in place for a further 7 days to keep the community safe. Face masks must continue to be worn in SEQ outside your home until Friday 6 August. For full details about mask requirements click here.

General Ticketing Information
Please refer to our General Ticketing Information page regarding concessions and COVID-19 booking conditions.
Thank you to The University of Queensland for their support in making this event possible.
---